While showing your Pride this month, how about mixing up something else to be proud of? We've got just the cocktail! Created with our friend, AJ Gibson, the Strawberry Basil Bliss-A-Rita is sweet, has a refreshing taste, and is the perfect signature cocktail for every Pride party.
Author, podcast host, and motivational speaker AJ Gibson (he/him) knows something about being out and proud. He shares his life with fans to help encourage them to embrace who they are—offering the kind of support that was instrumental in his own coming out journey.

"In the years after moving to Los Angeles to chase my dreams, I had to figure out a way to make ends meet, while also fulfilling a couple of personal needs," says AJ Gibson. "As a bartender, I was able to showcase my creativity by making unique handcrafted cocktails, while simultaneously working on my TV hosting skills every time I interacted with a new customer. For me, bartending felt like a natural extension of who I was at the time & I still have a passion for mixology today."

"Currently, I'm obsessed with margaritas! My fiancé and I are getting married this summer in Mexico, so it's been our drink of choice through the entire wedding planning process," he says. "Just the act of getting married as a gay man is a showcase of Pride, especially at a time when LGBTQ+ rights are being challenged at every turn, so when I was given the opportunity to imagine up a new cocktail using Barefoot Bubbly Sweet Rosé, it was a no brainer! My personal twist on a classic cocktail is not only perfect for all types of summertime celebrations, but a fun celebration of Pride 365 days a year!"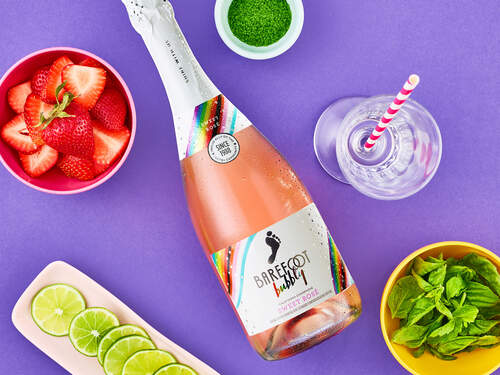 Strawberry Basil Bliss-A-Rita! 

INGREDIENTS
3 oz Barefoot Bubbly Sweet Rosé Pride edition
1 oz Blanco Tequila
1 oz Basil Infused Simple Syrup
1 oz Fresh Lime Juice
Fresh Strawberries
Fresh Lime
Strawberry or Lime Sugar Rim

DIRECTIONS
Fill a cocktail shaker with ice, then add Tequila, Simple Syrup and Lime Juice. Shake, then pour into a sugar-rimmed Margarita or High-ball glass. Top with Barefoot Bubbly and garnish with fresh strawberries and lime.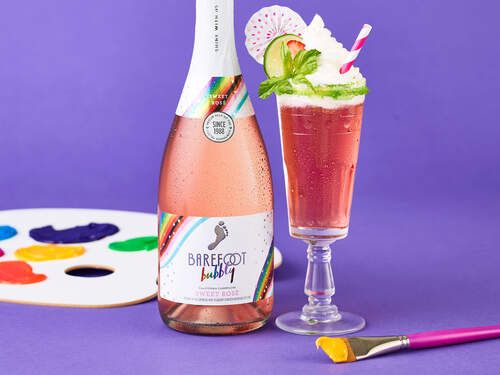 Proudly supporting Free Mom Hugs and NCTE
Pop that bottle of 2022 Barefoot Bubbly Sweet Rosé Pride Edition and feel proud doing it, knowing that your purchase helps us make a difference. This year, we're continuing our support of Free Mom Hugs and The National Center for Transgender Equality (NCTE) by releasing the new Barefoot Bubbly Sweet Rosé packaging for Pride. With the mission of empowering the world to celebrate the community through visibility, education, and conversation, Free Mom Hugs started with one mom offering hugs at a 2015 Pride Festival and has grown into a national non-profit organization with chapters in every state!

NCTE advocates to increase the understanding of transgender people, promoting empathy, opportunity and justice. We're donating $1.00 for every case of Pride package Bubbly sold up to $120,000, and we invite you to join us!
Join us by celebrating Pride every day, living with or without whatever labels we choose, and most importantly, loving exactly who we are.