The temperature is rising, the days are longer and watermelon is finally back in season! Summer's favorite fruit is officially claiming spring for itself in these three gorgeous DIYs! They're perfect for your next BBQ, pool party, or whenever you're feeling a little fancy and extra.

Treat yourself to a decadent fruit-ka-BBQ complete with skewered, honey-glazed fruit, a refreshing watermelon seltzer dispenser, or a deceptively simple melon cooler that will add just the aesthetic you're looking for.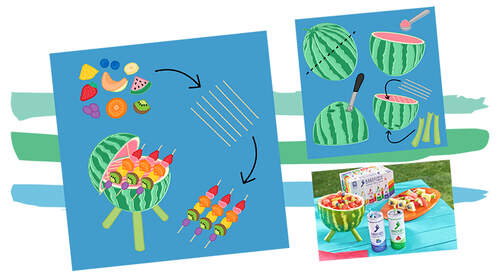 DIY Fruit-ka-BBQ This DIY might look intimidating, but the finished result is an absolute show-stopper. Plus, we'll walk you through it step-by-step. It's the perfect fun and fruity decoration for any celebration. And the best part? You can eat it!


You'll need:
• 1 seedless watermelon
• 3 stalks celery, cut into 6-inch pieces
• Half a lime
• Various wooden skewers
• Toothpicks
• Your favorite assorted fruits
• Your favorite assorted fruits

Your favorite assorted fruits

Instructions:
1. Cut the watermelon in half.
2. Using a melon baller, make three divots in the bottom of the wider half. These divots should be slightly smaller than the celery stalks.
3. Time to scoop! Hollow out the watermelon halves using the melon baller. (Remember to save all of the watermelon pieces for the fruit skewers!)
4. Take the wider watermelon half and insert each stick of celery into a divot on the bottom half of the watermelon and secure with toothpicks (or even peanut butter) if needed. Make certain it's secure because this will be the base of the whole display!
5. Fill the grill with a dark fruit (blueberries, blackberries, purple grapes, etc), which will act as your "charcoal."
6. Insert wooden skewers into the watermelon half along its top edge to assemble the "grill," spacing about ½-inch apart. Cut the skewers as needed.
7. Take the other half of the watermelon (this will be the grill 'lid') and use a toothpick to attach a lime half as a cute little lid handle!
8. Add two skewers into the rim of the bottom half of the watermelon so that the lid can rest on it.
9. Assemble your fruit skewers, and get to "grillin'!"

To finish everything off, and sprinkle in that special touch, glaze the fruit on your grill with a light brushing of honey to add that gorgeous shine to your fruit kabobs! Enjoy them with Barefoot Watermelon or Blueberry hard seltzer. Now that's a sweet treat. 🤩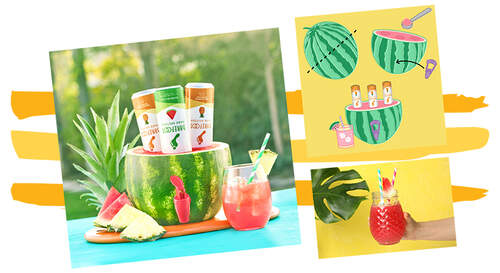 Pine-Melon Refresher
Nothing says "Summer's here!" more than drinking a refreshing fruit seltzer straight out of a fresh fruit spigot. Watch your friends and family go speechless in awe at your creativity with this show-stopping watermelon dispenser. The best part is that with just a few steps, making one is surprisingly easy!


You'll need:
• Watermelon (one average-sized watermelon will hold about four cans of seltzer)
• Your favorite Barefoot Hard Seltzer (we'd suggest watermelon, but to each their own 😉)
• Spigot
• Corkscrew
• Paring Knife
• Large bowl
• Measuring cup or ice cream scoop


Instructions:
1. Slice off the top of the watermelon, about 3/4ths of the way up.
2. Scoop out the insides of your watermelon (and set the fruit aside in a bowl so that you or your guests can snack on it later.)
3. Use a corkscrew to poke a hole about one-third of the way up from the bottom of the watermelon. This is where your spigot will go!
4. Use a paring knife to widen the hole if needed. Be careful to not make it too large or else it'll leak.
5. Push your spigot into the hole you made, and make sure it's really secure in there.
6. Pour your chilled seltzer into the watermelon, upend a few cans in there for the ~aesthetic~, and enjoy!

Whew. Time to enjoy the most rewarding sip of your life. You did that! 😎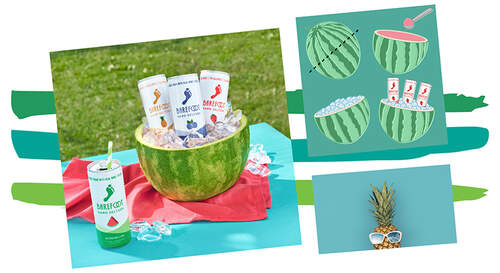 Watermelon Cooler We saved the easiest for last! Turn your watermelon into a groovy cooler that'll guarantee some compliments from your party! You don't need to worry about corks or corkscrews for this one.


All you'll need is:
• A watermelon
• Ice
• Melon baller


Instructions:
1. Slice the watermelon in half, right down the middle.
2. Scoop out the insides of your watermelon, and set the fruit aside in a bowl so that you or your guests can snack on it later.
3. Fill both halves of the watermelon with ice, and stick a couple Barefoot Blueberry or Watermelon Seltzers in there.

Perfect! Now you have two fully functional coolers for your drinks, as well as some original, thirst-quenching decoration. And that's a watermelon wrap! 🍉