For nearly 35 years, Barefoot has been a committed ally of the LGBTQ+ community.
Through donations to LGBTQ+ causes, Pride marches, and supporting LGBTQ+ employees, Barefoot has never wavered in the belief that everyone should be accepted for who they are.
Barefoot Bubbly Sweet Rosé Pride
We're celebrating Pride in some of the best ways we know how—by supporting LGBTQ+ causes and our Barefoot Bubbly Sweet Rosé Pride edition! It's the wine with the same juicy taste you know and love, with a package inspired by the importance of connection, with a special focus on non-binary and gender non-conforming individuals. Whatever your pronouns are, we see you, we hear you and we support you! They, She, Ze or He, we support all people regardless of what labels they do or don't identify as.

Join us by celebrating Pride every day, living with or without whatever labels we choose, and most importantly, loving exactly who we are.
LGBTQ+ Charitable Partnerships
IT ALL STARTED WITH A HUG
In 2015, at the Oklahoma City Pride Festival, Sara Cunningham opened her arms to over one hundred LGBTQIA+ individuals who, for many, had been rejected by their own families for coming out. The impact was so great that she started Free Mom Hugs, a now thriving non-profit organization, with chapters in all 50 states, and a vast network of not just moms, but dads, aunts, uncles, sisters, brothers, and friends.

Barefoot Bubbly is proud to support an organization that loves and empowers the LGBTQIA+ community. Through public speaking engagements, collaboration with local and national organizations, participation in Pride events, and educational programs, Free Mom Hugs embodies what our brand values and believes. That's why Barefoot is donating $60,000 to Free Mom Hugs to support their mission in celebrating the LGBTQIA+ community through visibility, conversation and education.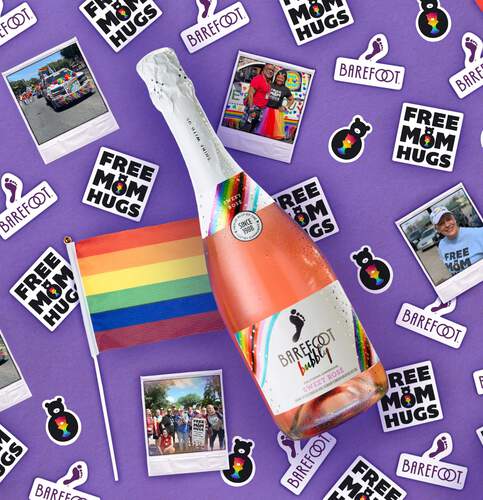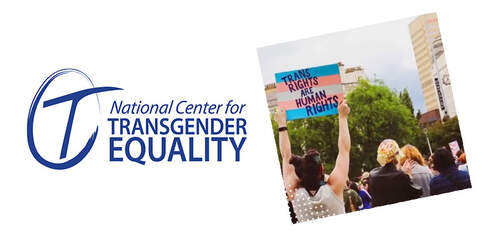 The National Center for Transgender Equality
The National Center for Transgender Equality (NCTE) advocates to change policies and society to increase understanding and acceptance of transgender people. They created the landmark U.S. Transgender Survey in association with the LGBTQ+ Task Force—the first, most comprehensive study to quantify transgender people's experiences in employment, healthcare, and other areas of life.

$1 of every case shipped* of our Barefoot Bubbly Sweet Rosé Pride 2023 edition will be donated to NCTE. Make this Pride Month extra sweet and join us in supporting NCTE.
Over thirty years ago, we set out to make wine for
everyone, spreading inclusivity and positivity to wine lovers
everywhere — no matter who you are or who you love.
1988
---
Barefoot begins donating to LGBTQ+ charities, supporting the Golden Gate Business Association of San Francisco, the world's first LGBTQ+ Chamber of Commerce.
1990
---
Barefoot hires openly gay Randy Arnold as the brand's first 'Barefooter' to lead the support of the LGBTQ+ community. Known as the 'Barefoot Guy,' Randy was one of the first "out" Sales Managers in the wine business. When Barefoot Cofounder Michael Houlihan was asked, "aren't you afraid that Barefoot will be the gay wine?" Michael replied, "I'm more afraid if we aren't!" Randy leads Barefoot's support of the San Francisco Gay Men's Chorus, a partnership that lasts 25 years.
1990's
---
Barefoot supports organizations that became a model for community response during the AIDS Pandemic, including Project Open Hand, The SF Aids Foundation, AIDS Emergency Fund, Under one Roof, and Academy of Friends.
Barefoot continues to support the LGBTQ+ community and donates to Human Rights Campaign and Equality California that lobbied for LGBT Civil Rights at the State and National levels, the GLBT Historical Society, The James C. Hormel LGBTQIA Center at the San Francisco Library, and San Francisco Gay Pride Brunch among other charities.
2005
---
Barefoot creates a partnership with InterPride, a global association for Pride organizations.
2008
---
Showing support for LGBTQ+ military members and their families, Barefoot begins a partnership with OutServe-SLDN, the association for actively serving LGBTQ+ military personnel and veterans.
2008
---
To celebrate marriage equality in California, Barefoot donates $500 to every LGBTQ+ community center in the state.
2009
---
Barefoot celebrates the right to marry with a giant Barefoot Bubbly wedding cake and slide at San Francisco's Pride Festival.
2010
---
Barefoot scores a perfect 100 on the Human Rights Campaign's Corporate Equality Index.
2012
---
GLAAD and McCann Worldgroup present Barefoot with the 2012 AdColor 'Advocate' Award.
2013
---
Barefoot celebrates the first-ever World Pride festival in Toronto as the official Wine and Bubbly sponsor.
2017
---
The Human Rights Campaign lists Barefoot as one of the "Best Places to Work" as part of their Corporate Equality Index.
2018
---
Barefoot launches their "Barefoot Bestie Labels" program benefitting Outfest, the leading organization promoting equality by creating, sharing and protecting LGBTQ+ stories on the screen.
2019
---
Barefoot hosts World Pride in New York City and includes a digital activation that allows people to create their own "Bestie" wine label and donates $1 to Broadway Cares/Equity Fights AID for every " Barefoot Bestie Label" created.
2020
---
Barefoot designs four unique packages for their Barefoot Bubbly Pride collection, honoring each decade they have supported and advocated for the LGBTQ+ community and donates a portion of the proceeds to Free Mom Hugs.
2021
---
Partnering with the National Center of Transgender Equality, Barefoot helps roll out the second U.S. Transgender Survey (USTS), the largest survey ever devoted to the lives and experiences of transgender and gender non-conforming people. A portion of the proceeds of the sale of their Barefoot Bubbly Pride Collection is donated to Free Mom Hugs and the National Center for Transgender Equality.
2022
---
As part of Barefoot's continued commitment to the transgender community, releases the 2022 Barefoot Bubbly Sweet Rosé Pride edition and donates a portion of the proceeds to Free Mom Hugs and the National Center for Transgender Equality. Barefoot receives a 100% rating in the Human Rights Campaign's Corporate Equality Index for the tenth time, which recognizes the company as the best place to work for LGBTQ+ employees.