Pomm Baked Brie
Who would've thought you could make a flawless, shareable holiday dish with just 3 ingredients? Whip up this delightful fusion of sweet and creamy goodness that everyone will enjoy.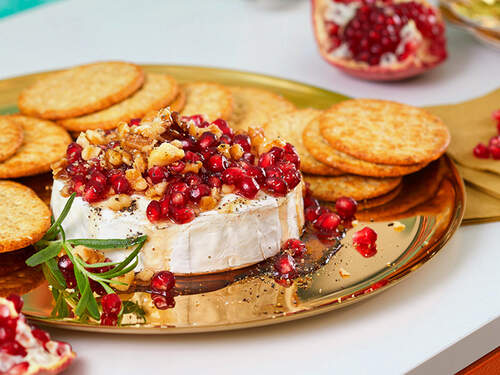 Ingredients
---
1 package brie
¼ cup honey
Pomegranate seeds (from one pomegranate)
Crackers (lots of 'em)
Directions
---
1. Preheat the oven to 350℉.

2. Place brie on a sheet pan covered with parchment paper.

3. Drizzle brie with honey and bake for 5-7 minutes.

4. Once the cheese begins to soften, take it out and sprinkle with pomegranate seeds.

5. Serve with (lots of) crackers and enjoy!
Spaghetti Meatball Bites in Pinot Noir Sauce
These Spaghetti Meatball Bites in Barefoot Pinot Noir sauce are a total crowd-pleaser, no matter the occasion. Offer these bite-sized snacks as an appetizer or serve them up on plates with crusty French bread and a side of grilled veggies for a delicious meal.
Ingredients
---
1 lb ground beef
1/3 cup milk
1/3 cup breadcrumbs
1 tsp salt
1 shallot, minced
¼ tsp pepper
1 ½ minced shallots
¾ cup Barefoot Pinot Noir
1 cup water
1 tsp cornstarch
1 ½ tsp Worcestershire sauce
1 tsp grape jelly
1 tbsp butter
2 cups cooked spaghetti
Directions
---
1. Preheat oven to 400 degrees. Spray a large casserole dish with nonstick cooking spray and set aside.

2. Combine the ground beef, 1 minced shallot (save the remaining ½ shallot for later), salt, pepper, milk and breadcrumbs together in a large bowl. Mix well.

3. Form small meatballs out of the beef mixture and place in the casserole dish. Bake for 20 minutes or until meatballs are done.

4. While meatballs are cooking, combine the Pinot Noir, water, cornstarch and remaining minced shallot in a large pan over medium heat.

5. Add the grape jelly and Worcestershire sauce to the wine mixture, stirring well.

6. Add butter to the sauce and stir until it's completely melted. Continue simmering for another 6-8 minutes, or until sauce is nice and thick.

7. Use mini forks to twirl up spaghetti noodles before skewering a meatball to the end.

8. Pour the Pinot Noir sauce over the spaghetti meatball bites and serve.