Strawberry Caprese
Another 3-ingredient holiday gem, this light antipasto is a perfect dish to keep on the countertop for the entirety of your celebration. Let guests snack at their own leisure with the perfect combination of sweet and savory with an herbal twist.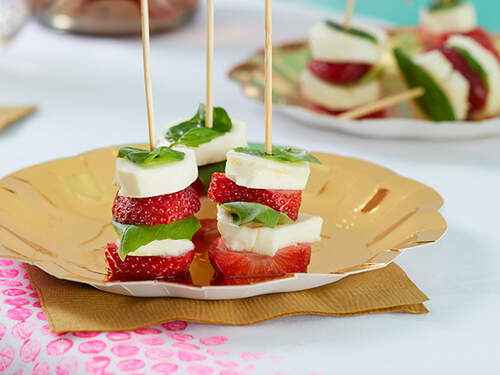 Ingredients
---
Strawberries
Mozzarella
Basil
Directions
---
Skewer strawberries, mozzarella and basil on serving sticks. Place on a party tray and enjoy!
Black Cherry Macarons with Chocolate Pinot Noir Filling
If you're looking for a delicious dessert that will blow your friends and family out of the water, try your hand at making our favorite French pastry—macarons. This recipe combines three of our all-time favorite tastes—black cherry, Pinot Noir, and chocolate!
Ingredients
---
For Filling:
2 tbsp unsalted butter, room temp
1 ¼ cups powdered sugar
1 ½ tbsp cocoa powder
1 tsp vanilla extract
2 tbsp Barefoot Pinot Noir
¼ tsp salt

For Macarons:
3 egg whites, room temperature
2/3 cup extra-fine almond flour
¾ cup powdered sugar
1 tbsp freeze-dried black cherries, powdered (you can use a spice grinder)
¼ cup caster sugar
Pinch of salt
Directions
---
For Filling:
Beat the butter until soft. Add the powdered sugar slowly, followed by the cocoa powder, vanilla, salt and Pinot Noir. Increase the speed of your mixer and whip frosting for eight minutes, until very light and fluffy. Put filling into a piping bag with a small round tip and set aside.

For Macarons:
1. Add the almond flour, powdered sugar, and powdered cherries to a food processor and pulse to your heart's desire. The finer your powders, the prettier your cookies will look. Then, sift the mixture into a large mixing bowl.

2. In a separate mixing bowl, combine your egg whites with the pinch of salt and beat with an electric whisk beater until the egg whites begin to get frothy and opaque.

3. Now, begin adding the caster sugar little-by-little to the egg whites and continue beating until you get a meringue with stiff peaks (if the peaks fall over or drip, keep beating!)

4. Begin slowly folding the dry ingredients into the meringue. (Note: You might even want to look up a quick video on how to "macronage"—the technical term for folding together the dry ingredients & meringue.) Keep mixing until you've reached the consistency of "lava." Another way to know it's ready is when you're able to make a figure eight in the batter with your spoon without the batter breaking.

5. Put your batter into a piping bag with a round tip. Line a baking tray with parchment paper and pipe out cookies that are 1 ½ inches in diameter.

6. Take your baking sheet, and carefully but firmly drop it down on the counter to get rid of any remaining air bubbles in the macarons.

7. Let your macarons sit at room temperature for half an hour to one hour. While they're resting, preheat your oven to 300°F (use an oven thermometer to make sure your temperature is accurate.) You'll know the cookies are ready to bake when you can run your finger over the top without it sticking.

8. Bake for 17 minutes (on the nose) and then let the cookies sit for at least 20 minutes before moving to a cooling rack.

9. Be patient and don't add the filling until your cookies are completely dry and cool.

10. Once cookies are ready, add a circle (just smaller than the cookie) of filling and press two cookies together. For best results, let macrons sit at room temperature for at least 24 hours before serving.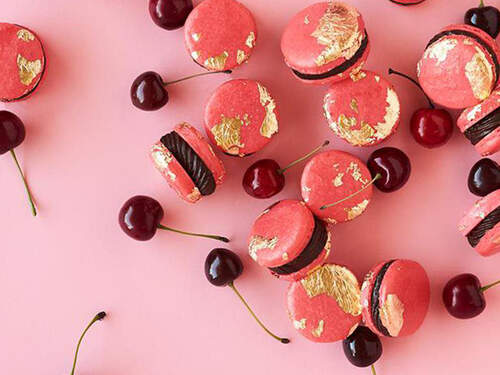 Cauliflower Mac N' Cheese
Say cheese! And Chardonnay! This Mac & Cheese recipe is the perfect comfort food for you and your friends to enjoy.
Ingredients
---
3 cups coarse fresh breadcrumbs
¼ cup fresh parsley, minced
6 tbsp unsalted butter, melted
8 oz bacon, cut into ½-inch pieces
1 ½ lbs cauliflower, cut into ½-inch florets
¼ cup all-purpose flour
2 tbsp Barefoot California Chardonnay
3 ½ cups milk
2 cups shredded fontina cheese
3 cups shredded Gouda cheese
½ cup half & half
1/8 tsp cayenne pepper
1/8 tsp freshly-grated nutmeg
1 lb shell pasta, cooked al dente
Salt and pepper, to taste
Directions
---
1. Preheat oven to 375° F. In a large bowl, combine breadcrumbs, parsley, and 2 tbsp melted butter (we'll use the rest later.) Add salt and pepper to taste.

2. In a large pan, cook the bacon over medium heat until crispy. Transfer bacon to a small bowl, reserving the fat in the pan.

3. Add the cauliflower to the pan, stirring occasionally, and cook until tender and caramelized, about 10-12 minutes.

4. Transfer the cauliflower to a bowl and clean out the pan.

5. In the same pan, add the remaining butter over medium heat. Add the flour and cook, stirring frequently, about 3 minutes. Whisk in the Chardonnay and milk and simmer until thickened, about 10 minutes.

6. Add the cheeses, half & half, cayenne, nutmeg, and salt and pepper to taste.

7. Stir in the pasta, bacon and cauliflower. Sprinkle breadcrumbs on top.

8. Bake for 30 minutes, then turn the oven to broil and cook until the breadcrumbs are crispy and brown, 4-5 minutes.

9. Serve immediately, pairing it with the rest of your Barefoot Chardonnay!
Pomm Baked Brie
Who would've thought you could make a flawless, shareable holiday dish with just 3 ingredients? Whip up this delightful fusion of sweet and creamy goodness that everyone will enjoy.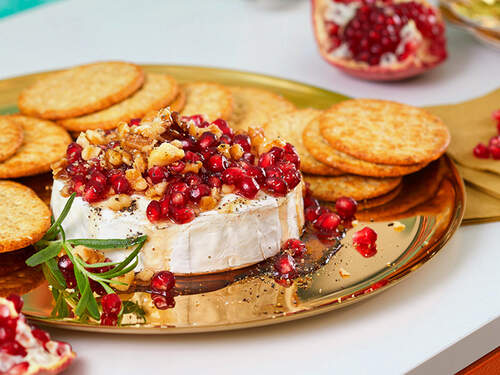 Ingredients
---
1 package brie
¼ cup honey
Pomegranate seeds (from one pomegranate)
Crackers (lots of 'em)
Directions
---
1. Preheat the oven to 350℉.

2. Place brie on a sheet pan covered with parchment paper.

3. Drizzle brie with honey and bake for 5-7 minutes.

4. Once the cheese begins to soften, take it out and sprinkle with pomegranate seeds.

5. Serve with (lots of) crackers and enjoy!
Spaghetti Meatball Bites in Pinot Noir Sauce
These Spaghetti Meatball Bites in Barefoot Pinot Noir sauce are a total crowd-pleaser, no matter the occasion. Offer these bite-sized snacks as an appetizer or serve them up on plates with crusty French bread and a side of grilled veggies for a delicious meal.
Ingredients
---
1 lb ground beef
1/3 cup milk
1/3 cup breadcrumbs
1 tsp salt
1 shallot, minced
¼ tsp pepper
1 ½ minced shallots
¾ cup Barefoot Pinot Noir
1 cup water
1 tsp cornstarch
1 ½ tsp Worcestershire sauce
1 tsp grape jelly
1 tbsp butter
2 cups cooked spaghetti
Directions
---
1. Preheat oven to 400 degrees. Spray a large casserole dish with nonstick cooking spray and set aside.

2. Combine the ground beef, 1 minced shallot (save the remaining ½ shallot for later), salt, pepper, milk and breadcrumbs together in a large bowl. Mix well.

3. Form small meatballs out of the beef mixture and place in the casserole dish. Bake for 20 minutes or until meatballs are done.

4. While meatballs are cooking, combine the Pinot Noir, water, cornstarch and remaining minced shallot in a large pan over medium heat.

5. Add the grape jelly and Worcestershire sauce to the wine mixture, stirring well.

6. Add butter to the sauce and stir until it's completely melted. Continue simmering for another 6-8 minutes, or until sauce is nice and thick.

7. Use mini forks to twirl up spaghetti noodles before skewering a meatball to the end.

8. Pour the Pinot Noir sauce over the spaghetti meatball bites and serve.