What do you get when you combine the Instagram-worthy look of a charcuterie board, mouthwatering grilled summer fruits and delicious Barefoot wine? A perfectly sweet summertime spread! Enter a chance to win a FREE grill through our Grill With Us Sweepstakes! We're sharing a handful of fun grill recipes that go way beyond the bun.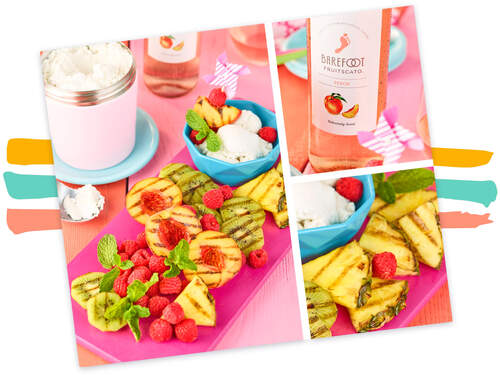 CHAR-FRUIT-ERIE LIKE A PRO

The ultimate charFRUITerie board is surprisingly easy to put together. Follow these steps and pair with the perfect wine for a mouthwatering BBQ experience all of your friends will love!

Step 1: Sizzle that fruit
Cut fruit into half-inch slices and place directly on a hot grill. Cook each side until slightly charred. The heat from the barbecue will caramelize the natural sugars in the fruit. We used pineapple, peaches and kiwi, but bananas and melons also grill delightfully well.

Step 2: Select your pairings
Round out your charFRUITerie board with foods that complement your newly grilled fruit. We added fresh raspberries and ice cream for total dessert vibes. Alternatively, you could choose salty snacks like cheese, pretzels or even prosciutto to balance the sweetness. Then, choose a Barefoot Wine to match. We paired ours with Barefoot Peach Fruitscato to match the sweetness of our selections, but one of our Fruitscatos would also make an excellent pairing for a saltier spread.

Step 3: Assemble with flair
Once your fruit and snacks are ready to be assembled, select a platter large enough to hold it all. Add your ingredients to the board from largest to smallest—that way, you can fill in little nooks and crannies with smaller foods. The shape of the fruit may also dictate its placement. Slices of watermelon can be spread out into a fan shape, prosciutto can be artfully piled and honey or melted chocolate can be placed in a dish to anchor your board.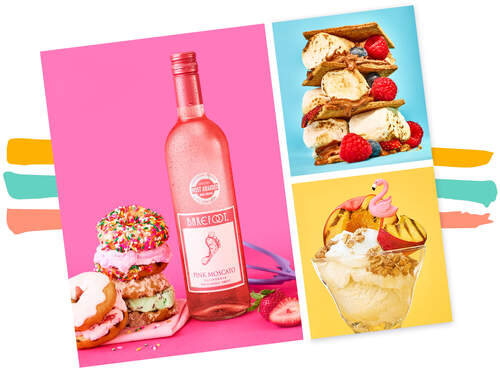 TRY S'MORE DESSERT IDEAS

If you're looking for more decadent summer desserts (and sweet wines to match) we've got you covered! Try one of these three super-easy-to-make works of art to really "wow" your friends.

Grilled Peach Sundae + Peach Fruitscato
How can something so beautiful (and so delicious) be so simple? All you need to make this sundae is ice cream, grilled peaches, whipped cream and granola. Assemble in a fancy glass and pair with Barefoot Peach Fruitscato for the full aesthetic.

Grilled Fruit S'mores + Blueberry Fruitscato
We've made a classic summer dessert even sweeter with one simple addition: fresh and grilled fruit! We added grilled strawberries to our s'mores as well as some fresh raspberries and blueberries. And to complete the look, we added a bottle of our luscious Blueberry Fruitscato.

Grilled Donut Ice Cream Sammies + Pink Moscato
This donut-based dish probably won't make it to your breakfast table but makes a phenomenal afternoon dessert for your summertime barbecue. Just cut your donuts in half, toss them on the grill, then add some ice cream to the middle! Pair with Barefoot Pink Moscato for some good 'ol sweet on sweet on sweet.

If you're thinking to yourself, "Gee, I wish I had a grill to make all of these delicious recipes," just enter for your chance to win a FREE brand new grill, courtesy of our Grill With Us Sweepstakes!
We hope that your winter holidays were completely magical! But let's be real—after the holiday rush, we're ready for a quiet night (or week) at home.
Is it just us, or does it feel like we haven't celebrated the winter holidays in like… a decade? This month has a lot to live up to, and we're here for it!
If you've been following Barefoot Wine for a while, you know that we love adding new wine options for our fans to try!