Are you all work and no play? Listen—we totally appreciate the hustle. But what's the point of working hard if you never take a break? Take some time this summer to hit pause on the daily grind and enjoy some serious summer vacay vibes. And the best part? You don't even have to leave your home to do it! Host a sweet summer staycation for you and a few of your favorite people with a DIY backyard oasis so that you can finally enjoy the backyard glamping life! It's a getaway without the… away. Keep reading for five fun ways to set yourself up for the perfect backyard glamping sesh.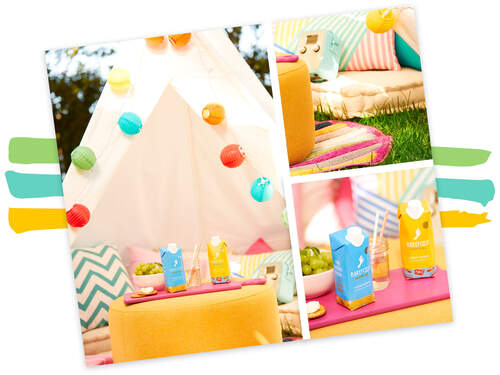 5 Must-Haves for Backyard Glamping
(1) Cuddle Up With Pillows & Poufs. Creating your backyard oasis starts with your "hub." Begin by finding some shade under a tree or putting up a teepee or beach umbrella. Add in all the comforts of a true vacay with piles of colorful blankets, pillows, beanbag chairs, etc. Then add something in the center of your oasis to serve as a table. This could be an ottoman, wooden pallet, etc... anything that you can set your wine glass on between sips!

(2) Beautify Your Space. You can't really call it an oasis if it doesn't have the proper vibe. Hang some tropical garlands and twinkle lights for the perfect ambient lighting once the sun goes down. A little goes a long way!

(3) Play Some Sweet Sounds. While you're hitting pause on the hustle, press play on some tuneage! We recently shared a bunch of fresh summer playlists to set the mood for your favorite summer activities. If you're feeling beachy vibes, we've got a playlist for that! Want to just kick back and relax? There's a playlist for that, too! Start browsing and find your perfect staycation soundtrack.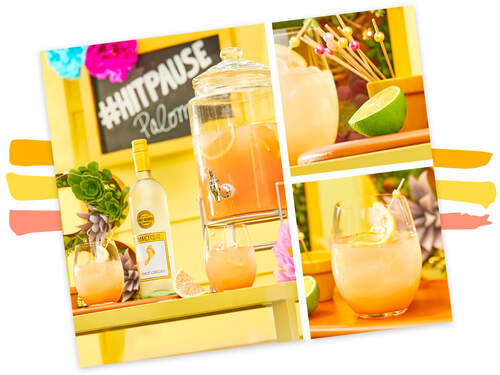 (4) Sip, Sip, Hooray! It's not a holiday without a delicious drink in your hand—preferably one with a mini umbrella in it. And since the whole purpose of this glamping staycation is to take a break, we'd like to keep the refreshments simple. Toss a few of your favorite Barefoot Wine-To-Go into an ice bucket or whip up a batch of this super-easy, two-ingredient #HitPause Paloma so everyone can help themselves!

(5) Munch & Crunch. Lay out some light and easy snacks so that you can lazily munch all afternoon! Summer fruits (watermelon, strawberries, grapes, pineapple, etc.) are a welcome addition to any warm weather get-together. Add in a simple cheese and cracker platter and you've got yourself a party!

We're so excited to see how your glamping experience comes to life! Remember to share pics on social media, tag @BarefootWine and use hashtag #HitPause for a chance to be featured. Cheers!