At Barefoot Wine, we believe that everyone deserves to be embraced and celebrated, no matter who they are or who they love. As a proud ally of the LGBTQ+ community for more than 30 years, we stand by our commitment to loving, supporting, and striving for greater representation and inclusiveness of the diverse LGBTQ+ community. Discover how we're building on our rich history, and March Onward with Us!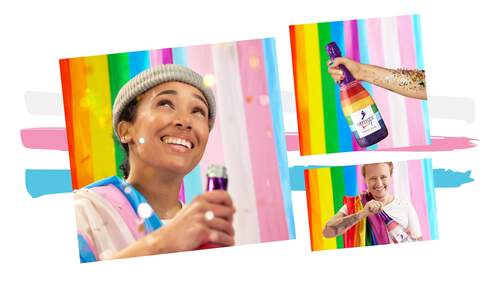 Our Vibrant New Packaging

For 2021, our popular Pride collection features two new designs – one inspired by the rainbow pride flag, and one inspired by the transgender flag. Our Barefoot bottles celebrate inclusivity and love with our new Sweet Rosé Bubbly! With this, we continue our 30+ year support and advocacy for the LGBTQ+ community by partnering with organizations and individuals leading the change towards a more equal and inclusive society.

Our new Bubbly Pride collection celebrates love and acceptance of LGBTQ+ individuals, exactly as they are! The transgender flag design celebrates the community. It's our hope to increase education and awareness of transgender representation in media, and one day, to live in a world free of transphobia and discrimination based on gender.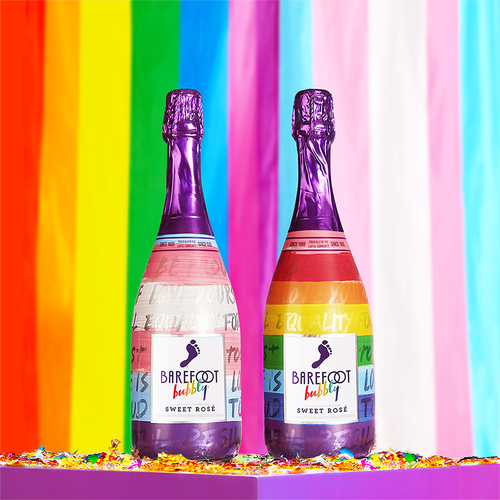 The Power of Pride and our Charity Partnerships

Our LGBTQ+ charity partnerships mean so much to us and our community and we're excited to share these with you.

We're continuing our partnership with Free Mom Hugs, a non-profit organization focusing on educating families, communities and civic leaders, encouraging them to affirm the value of the LGBTQ+ community and celebrate them in every way. Last year, our partnership helped distribute Covid-19 care packages to LGBTQ+ families in need. This year our new packaging will directly contribute to Free Mom Hugs' signature virtual panel discussions, national Pride ride, and nomination relief packages. At Barefoot, we love and accept everyone as they are and celebrate everyone, one hug at a time!

New for 2021, we're partnering with The National Center for Transgender Equality, which advocates changing policies and society as a whole to increase the understanding and acceptance of transgender people. Demonstrating how data is used to drive meaningful policy changes, NCTE created a landmark, first of its kind, National Transgender Discrimination Survey and developed a comprehensive study to understand transgender people's experiences in employment, healthcare, and other areas of life. Proceeds from the Pride packaging will directly contribute to NCTE's rollout of the 2021 U.S. Transgender Survey by helping to create safe survey-taking sites across the country and providing the equipment necessary for completing the survey.

Together, we're working to make the world a better, more equal, more inclusive place. Your purchase of the Barefoot Bubbly Pride package, helps us support these incredible charity organizations. $1 per case sold of 2021 Pride product will be donated*.

*Proceeds to be divided equally between Free Mom Hugs and NCTE, up to $100k per case, sold between March 1, 2021 and January 31, 2022. (Not valid in CA.)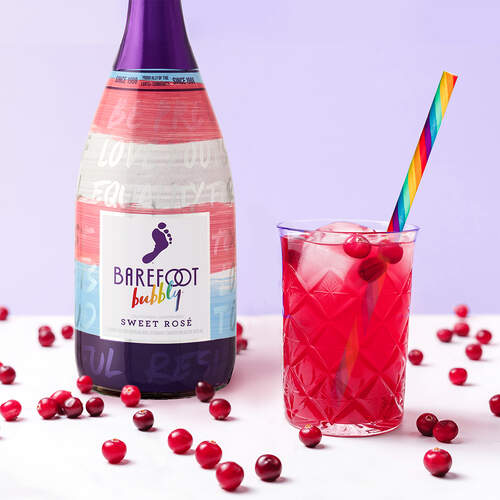 A Perfect Pride Month Cocktail

Speaking of toasting, what better way to celebrate than with a bottle of our new Sweet Rosé Bubbly? Mix up a Barefoot Cranberry Fizz cocktail to create a celebratory drink boosted by bubbly, sweet, and utterly delicious flavors! We recommend serving it over ice, and don't forget the most essential ingredient—sharing it with your favorite friends!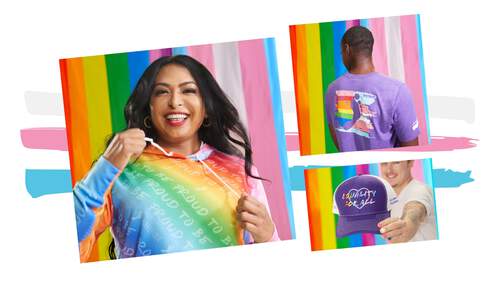 Slay & Sparkle with Pride

Our new Barefoot Pride merch is the perfect complement to celebrating inclusivity! Celebrating Pride with a delicious cocktail should be a given, but what about the sparkle to match? Whether you are getting together with your chosen family or joining a small parade, we've got the perfect item for you! Celebrating Pride all year with our "Equality for All" hat, "Be Brave, Be Proud" super-soft tee, "Proud to Be" sweatshirt, and our "Bold, Beautiful, Resilient" cosmetic case. They're perfect for a parade or a pool party, and best of all—a portion of the proceeds from our Pride merch go towards our charity partners Free Mom Hugs and the National Center for Transgender Equality.* From our Barefoot Family, we're raising a glass to the millions of people around the world who show up every year to celebrate Pride, together!

*Up to $10,000 each.