Build Your Own Char-cookie Board

In case you missed it, our Barefoot team recently partnered with our besties at Oreo to release a limited-time only Barefoot x OREO THINS Red Blend! We figured since we both make treats to connect playful grownups over delicious moments, why not join forces to bottle up some scrumptious nostalgia? The resulting wine features a medley of blackberry jam and vine-ripe red fruits that transition into the delicate decadence of an Oreo Thins cookie for a creamy yet crisp finish.

Now, this got us thinking... what other Barefoot wines could you pair with Oreo Thins? To find out, we hosted our own full-fledged wine tasting to find the best combos! As a quick reminder, an easy way to taste wine and food together is to follow this order: sip, bite, sip again. This process gives you a chance to familiarize yourself with the wine before adding the food element. Here's what we discovered: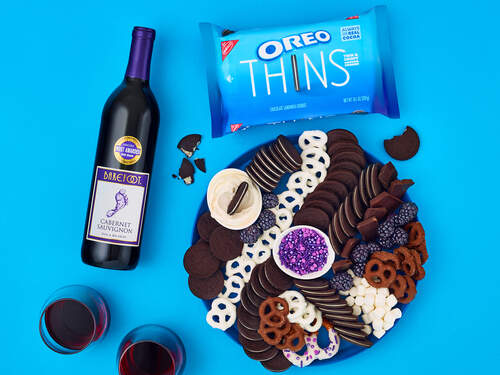 Barefoot Cabernet Sauvignon + Original OREO Thins

This was the first one we tried, and we had a lot of thoughts. First thought: "YUM!" Breaking it down, many of us noticed distinct dark notes emerging from both the wine and the cookie when tasted together. The combination was "toasty"—featuring notable hints of toasted marshmallow— giving us cozy cold-weather-by-the-fireplace vibes.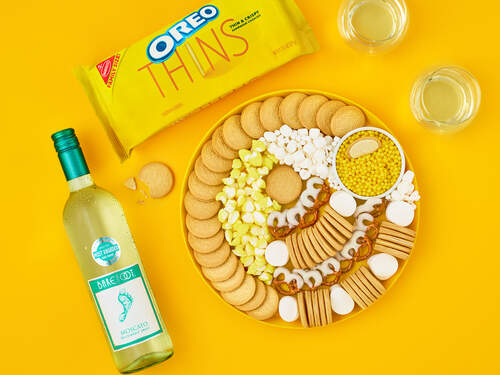 Barefoot Moscato + Golden OREO Thins

Sweet and oh-so-creamy, this combo is the perfect after-dinner treat when you're looking for something a little lighter. Overflowing with notes of vanilla, we noticed that the flavor and texture of the cookie gave our Moscato a more buttery taste. And both the wine and the cookie were improved by the pairing. Mmm... delicious synergy.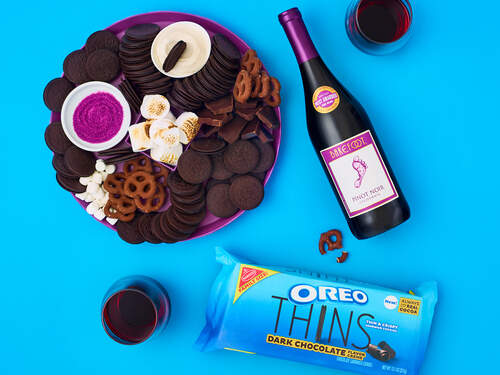 Barefoot Pinot Noir + Dark Chocolate OREO Thins

Once again, we have a rich combination that improves both the cookie AND the wine. Our velvety Pinot Noir features notes of molasses and dark cherry, which creates a creamy texture when combined with the Dark Chocolate cookie. This makes for an excellent late-night indulgence with deep, rich, melt-in-your-mouth flavor.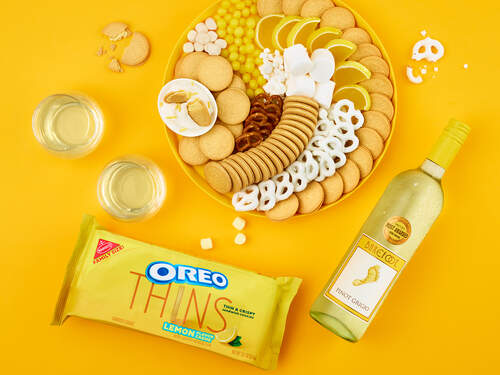 Barefoot Pinot Grigio + Lemon OREO Thins

What happens when you pair two delicate and citrusy treats? Pure magic. The tart fruit in the wine brings out the sweet lemon filling of the cookie for a sweet and creamy texture. We took a vote and decided that this yummy blend of flavors is perfect for a late-afternoon pick-me-up—maybe even before dinner! Yeah, we went there.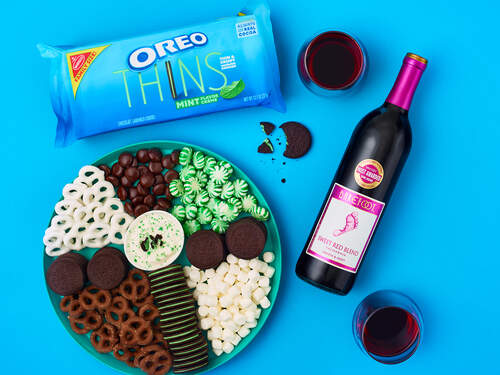 Barefoot Sweet Red Blend + Mint OREO Thins

This final pairing surprised us the most—and ended up being the most popular combo! Who knew that the juicy dark fruit of our sweet red blend would actually enhance the mint filling of the cookie? The rich smorgasbord of flavor in this pairing gives us strong cocktail party vibes. Munch, crunch and sip while you indulge in a little small talk! Try a few of these delicious pairings, or come up with some unique combinations of your own. And, of course, don't forget to share your own Barefoot + Oreo Thin experience with us on social!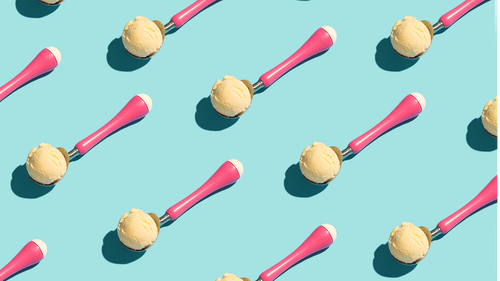 Moscato is a sweet, fizzy white or Rosé wine with a low alcohol content that pairs exquisitely with desserts and appetizers.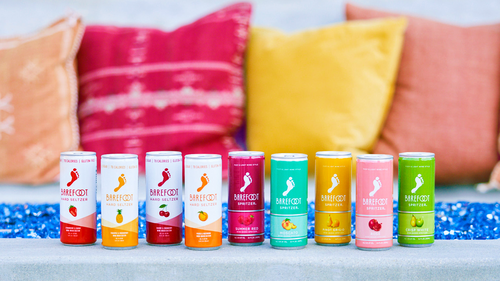 Bubbly, and spritzers, and seltzers with wine! Oh, my!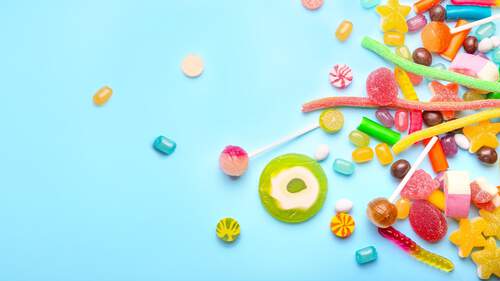 You've probably heard someone describe wine as "dry," but what does that mean?