Bubbly, and spritzers, and seltzers with wine! Oh, my!

Who hasn't found themselves singing something similar to this while skipping down the wine aisle lately? Well, maybe not skipping. Sauntering, perhaps?

OK. Scratch that. Maybe it's just us...

So, whether you're skipping while shopping or simply shopping, we are willing to bet that you've noticed that the world of bubbly beverages is all but bubbling over these days.

That's right. There has been a virtual explosion of bubbly beverage offerings at wine and grocery stores nationwide over the past year or so.

It's enough to make your head spin.

Don't want that to happen? Good—neither do we. That's why we've taken it upon ourselves to break down one of the biggest mysteries currently, ahem, bubbling to the top: What's the difference between canned wine spritzers and wine seltzers?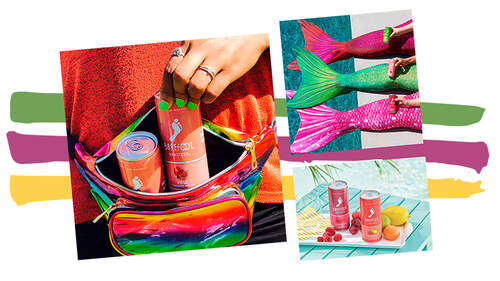 The Hard Seltzer Truth - What is Hard Seltzer?

Let's start with these new trendy hard seltzers, shall we? Hard seltzers consist of two basic ingredients: Sparkling water and an alcohol base. The alcohol base can be derived from any of the following:

Spirits
Wine
Malt 

or Sugar 


(Our Barefoot Hard Seltzers are made with real Barefoot wine but, more on that later.)

Then, in most cases, a third, optional flavor component is tossed in the mix.

Most hard seltzers are low in sugar (less than 5grams), relatively low in alcohol at less than 6% ABV. They're also usually gluten-free.

Hard seltzers are not the same as the flavored beers and other sugary malt beverages out there, which usually have higher alcohol content, more added sugar, and, let's face it are less suited for drinking over an extended period of time.

Isn't it nice to have refreshing beverages that will go the distance with you? We agree. We think this is a key reason why hard seltzers are so darn appealing.

At Barefoot we wanted to bring our great flavor expertise and fun-loving attitude to this refreshing category, so our winemaker created Barefoot Hard Seltzer! Find out more below...
Keep Your Spritzers About You - What is a Wine Based Spritzer?

So, now, what about wine based spitzers? What makes them so sublimely special?

Wine spritzers always have a wine base—Yes, you got it, it's all in the name—and they are often more fruit-forward and well ... wine-like. Some describe a wine spritzer as "Wine with a touch of fizz." We like to say, "Wine with a touch of fun," but to each their own. With spritzers, it's all about that great wine flavor you've come to know and love (and we know a thing or two about that).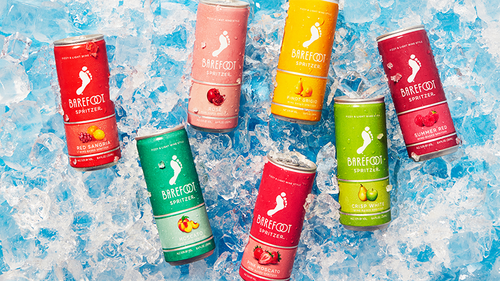 Where the Bubbles Are

Now you may be wondering, where does Barefoot play into all of this spritzer-seltzer stuff? Well, as you probably know, we offer a line of Barefoot Spritzers. Our canned wine spritzers include the following varietals:

Rose 

Moscato 

Crisp White 

Pinot Grigio spritzer 

Pink Moscato spritzer 

Sangria spritzer 

and Summer Red spritzer 


These canned wine-based spritzers are delicious and refreshing and—don't worry, they're not going anywhere! In fact, we are going to continue to bring you Barefoot Spritzer Wines throughout 2020 and beyond.

We know our fans are always looking for new tastes, formats, and packaging that they can enjoy in new places or for new occasions. Which brings us to hard seltzers.

Barefoot fans have been telling us they're interested in hard seltzers and, well, quite simply: We ARE listening!

Isn't that refreshing? Ahh, almost as refreshing as a crisp, ice-cold Barefoot Hard Seltzer... Whoops—it's so easy to get carried away... Anyway, back to the point...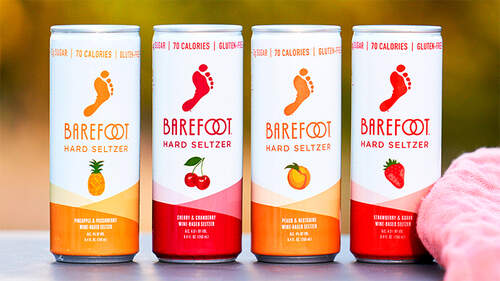 A for Effervescence

Never bashful about joining a party, we rolled up our sleeves and kicked off our shoes... (Wait, our shoes were already off because, well you know—it's kind of our thing.) We took note of a new opportunity to meet thirsty fans where they are with the kinds of beverages that they want.

We've heard that wine-based hard seltzers are appealing because it's a new way to enjoy great flavors in a refreshing and light style.

With Barefoot Hard Seltzer, we've created delicious, light-bodied, wine-based hard seltzers that can be enjoyed at home—We're thinking birthdays, barbecues, game night, movie night, any night...; during "me time"—that's JOMO (Joy Of Missing Out) time to us; on the go; or with family and friends.

And, you guessed it, there's real Barefoot wine in every can


Find Your Hard Seltzer Flavor

As we mentioned, our new Wine Hard Seltzers are made with three main ingredients: real Barefoot wine, seltzer water and natural flavor. At first blush, we're offering four vibrant and refreshing Barefoot Hard Seltzers—each a distinct blend of natural flavors:

Pineapple & Passion Fruit

Cherry & Cranberry 

Peach & Nectarine 

Strawberry & Guava

We heard that our fans were looking for beverages with real ingredients and less than 100 calories. And, well, we aim to please.

That's why we're happy to report that each 250mL can of hard seltzer has just 70 calories, 2 grams of sugar, is gluten-free and is 4% ABV!

Don't let the names fool you. Our hard seltzers are less "wine forward" than our spritzers. They differ in style and taste, but rest assured, the world- famous Barefoot logo guarantees the quality you know and trust.


Thought Bubbles

You've probably gathered this by now, we love what we do. And a big part of that Barefoot love is hearing from you.

Whether you're new to wine, bubbles, a bona fide Barefooter, or dare we say, intrigued by our new wine-based Hard Seltzer offerings, we encourage you to dive in, have some fun and give us a shout to tell us how you like them.

We'll be here, toes in the sand, eagerly awaiting your thoughts sent from near and far.

Until then, cheers to you!
Your Barefoot Friends