Your Perfect Night in with OREO THINS Red Blend

Remember when you were just a wee one, munching on a big 'ol package of Oreo cookies? So do we. And honestly, we never quite grew out of it— we just graduated to Oreo Thins for a more grown-up, crisp, satisfying crunch. And now we're looking for a way to incorporate another classic grown-up treat into the mix: delicious Barefoot wine!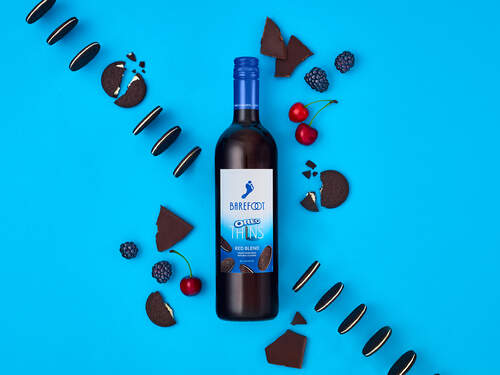 Since we both make treats to connect playful grownups over delicious moments of mindful indulgence, we decided to ask if Oreo Thins wanted to play. And wouldn't you know it, they did! Together with our new BFFs, we crafted Barefoot x OREO THINS Red Blend—a scrumptious wine that'll send your tastebuds into fits of nostalgic delight. It features a medley of blackberry jam and vine-ripe red fruits that transition into the delicate decadence of an Oreo Thins cookie for a creamy yet crisp finish.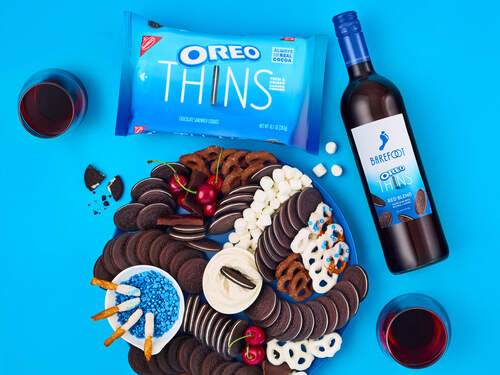 This rich red blend is so easy to enjoy, especially paired with a package of Oreo Thin cookies. Just TWIST, SIP and CRUNCH. Start by twisting open your bottle of Barefoot x Oreo Thins Red Blend and pouring yourself and your bestie a glass (or mug, or plastic cup—any vessel will do!)

Next, sit back, relax and take a sweet, indulgent sip. Now that you've coated your tastebuds with this scrumptious red blend, you're ready to take big bite out of your classic Oreo Thin cookie. CRUNCH! Then, repeat steps two and three. The Barefoot x OREO THINS Red Blend is a limited release, so order yours today!