Perfect Potions for Your
Halloween Haunt
While we love a good creepy costume and some good old-fashioned spooky decor, let's be real—Halloween is all about the sweet treats. With the most fun and mischievous holiday just around the corner, we've partnered up with Sparkling Ice to create seven delicious potions that any witch or wizard can brew up with ease! Each cocktail blends one of our scrumptious Barefoot Fruitscatos with a Sparkling Ice bev for all the fizz and fruit flavor your tastebuds can handle.
Blueberry Fright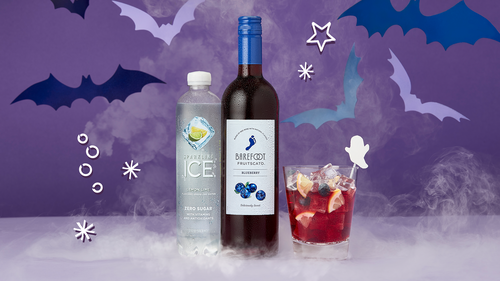 Blueberry Fright. This cocktail is frighteningly easy to make—just two ingredients! Enjoy this sweet blueberry treat with a refreshing citrus twist while braving your favorite—and most frightening—Halloween flick. Just remember to put your drink down between sips in case of jump scares.
Pineapple Margarita Spice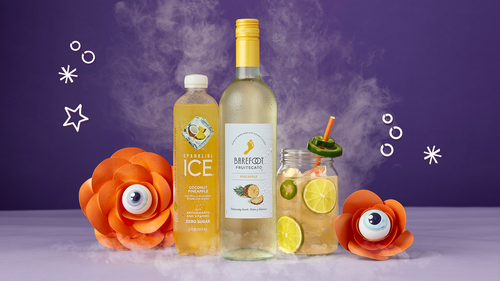 Pineapple Margarita Spice. Keep a close eye on this one, because the jalapeño spice is no joke! Enjoy a tropical twist on the classic Margarita with a touch of fizz and a little added umph. Whip up a batch for your outdoor hangout as you drink in the night air of All Hallows' Eve.
Peach N' Lemon Howler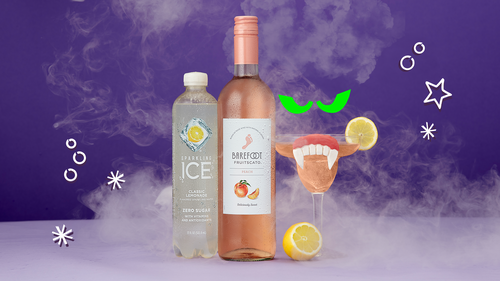 Peach N' Lemon Howler. Take a bite (figuratively speaking) out of this refreshingly sweet Halloween cocktail as you decorate a fresh batch of witch and werewolf-shaped cookies. Autumn never tasted so sweet!
Spicy Tropical Storm
Spicy Tropical Storm. Today's forecast? 100% chance of wine. Treat your tastebuds to a tropical October getaway with this fruity cocktail featuring our sweet Mango Fruitscato. (Psst… it's perfect for sipping during an ghostly game night.)
Manzana Spiced Cider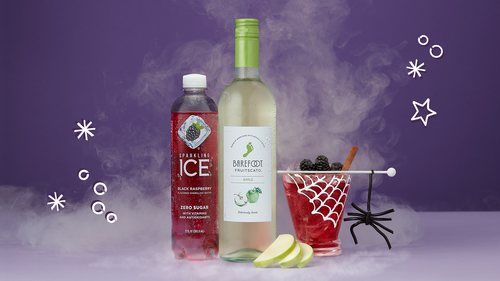 Manzana Spiced Cider. If you've never tasted a classic Columbian apple soda, please add it to your to-do list pronto. Or better yet—just whip up this delicious cocktail! It's everything we love about classic cider punch with some extra fruity flavors for good measure. This perfectly Halloween-y (it's a word… don't look it up) cocktail is the perfect counterpart to an evening carving and/or painting pumpkins.
Kiwi Berry Chiller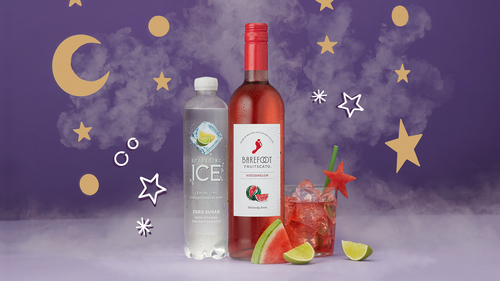 Kiwi Berry Chiller. Okay, hear us out: curl up with your favorite scary novel and sip a strawberry kiwi cocktail. Why? Because opposites attract! When you set the deliciously fruity flavors of this sweet chiller against the backdrop of a terrifying Halloween adventure, you've got everything you need for a perfectly balanced evening!
Watermelon Wizard Punch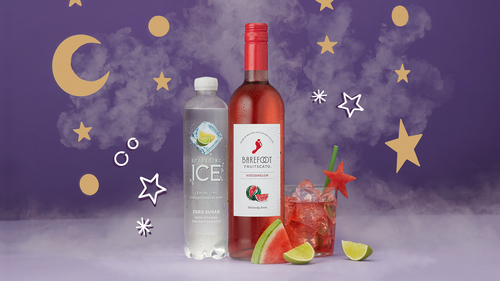 Watermelon Wizard Punch. Watermelon in October? Yes. So much yes. We like to enjoy our wizard punch in front of an autumn bonfire. But you do you, boo!