Apple Pie Infusion
Serve up the fab flavors of fall in a martini glass with our apple inspired Barefoot Moscato wine cocktail. The cinnamon-sugar rim makes this cocktail a crowd favorite—especially for Friendsgiving celebrations!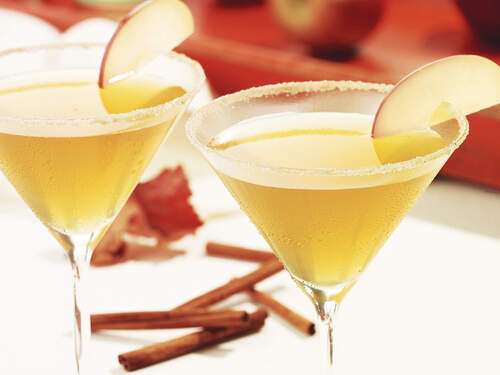 Ingredients
---
2 oz Barefoot Moscato
2 oz apple juice
3 tsp honey
½ oz clear cinnamon schnapps
Cinnamon & sugar mixture, to garnish
Directions
---
First, dip the top of a fresh cocktail glass in the cinnamon-sugar mixture to coat the rim. (PRO TIP: dip in honey first for a more generously coated glass.) Set aside. In a cocktail shaker with ice, combine liquids. Shake to blend and chill. Strain into your cocktail glass and serve immediately.
Chilled Mulled Wine
Summer who? Enjoy all your favorite things about autumn in one glass—from lush fruit flavors, a hint of bubbles and a dash of spice!
Ingredients
---
1 cup frozen dark, sweet cherries (thaw and keep juice)
½ cup cranberries
2 small plums
1 diced red pear
1 orange, cut into wheels, then quartered
2 cinnamon sticks
1 cup spiced rum
1 750ml bottle Barefoot Pinot Noir
4 oz lemonade
10 oz white cranberry juice
10 oz ginger ale, chilled
Directions
---
Place all fruit (including thawed cherry juice) and cinnamon sticks into large pitcher. Add rum, Pinot Noir, and cranberry juice. Stir, top with plastic wrap and refrigerate several hours or overnight. Add ginger ale and stir before serving. Scoop fruit into glasses and pour on the punch.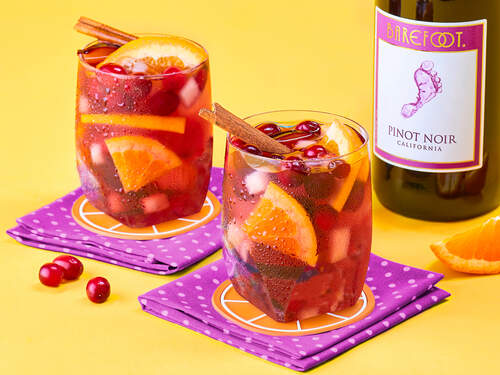 Sweater Weather Sipper
Colder days and longer nights mean just one thing—warm autumn beverages! This bold and fruity toddy is the drink equivalent of reading your favorite book underneath the covers. In fact, we can't think of a better setting to enjoy this autumn sipper.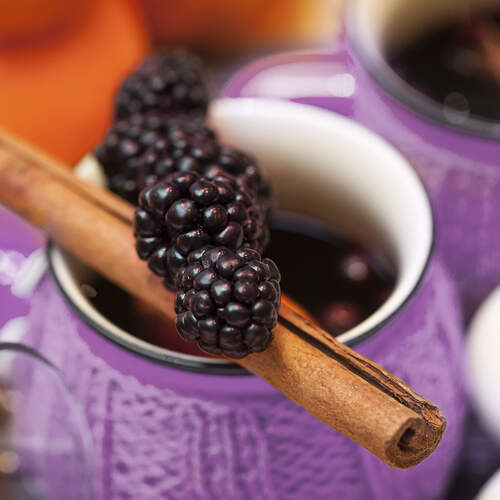 Ingredients
---
1 750ml bottle cabernet sauvignon
4 ounces E&J Gallo Brandy
6 ounce package fresh or frozen blackberries
1 cup brown sugar
1 single bag chai tea
1 cup water
Directions
---
Place fruit, sugar and water into a saucepan over medium high heat. Bring to a boil and add tea bag. Stir continually. Mash blackberries to release juice into the boiling liquid. Hard simmer for 5 minutes and remove from heat. Remove tea bag and fine strain the liquid to remove all fruit pulp. Return liquid to saucepan. Add Cabernet Sauvignon and brandy to the mixture. Heat to a low simmer. Remove from heat. Pour into heat-proof mugs and serve warm.