Ya'll—it's here. It's finally here. The first real holiday in what feels like decades! And whatever that looks like for you, we want to help make it extra special. From giveaways, cocktails, décor inspo, and so much more, your Friendsgiving starts here. Just don't forget to show us how you and your chosen family celebrate with Barefoot by using #CelebrateWithUs on social!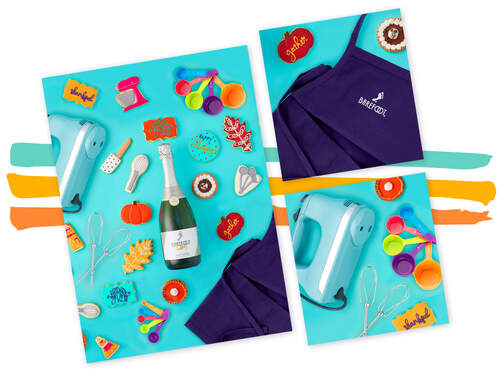 First, enter the holiday sweeps!

We're giving away Friendsgiving Celebration Boxes to kick off your festivities with a premium hand mixer, Barefoot measuring cups and fun cookie cutter designs for whipping up the perfect Friendsgiving treats! And here's a fun bonus: when you sign up for a chance to win the Friendsgiving sweeps, you're automatically entered for a chance to win the Barefoot VIP New Year's Eve trip for two to celebrate in Times Square!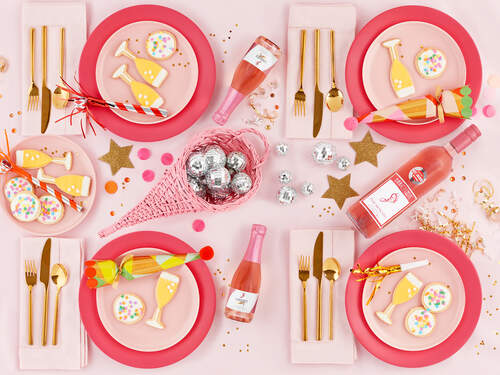 Next, set the table.

As much as we appreciate traditional holiday color schemes, we much prefer doing things the 'fun' way, rather than the 'normal' way—infusing a little more personality (and a little less pressure) into our celebrations. When setting up your Friendsgiving tablescape, look for items that scream "party" without tying you down to a single holiday. Even a beautifully-crafted cocktail can be part of the table aesthetic (more on that later.) Play your cards right, and you could have all the holiday décor you need to see you all the way from November to New Year's Day!

Now, pour the drinks.

Start with the obvious—a couple of bottles of wine! For a juicy red, try our Sweet Red Blend set to a sweet R&B playlist. Or for a bolder taste, serve our Cabernet Sauvignon while you play your favorite party games. For a walk on the brighter side, open a bottle of Barefoot Moscato—a perfect wine to pair with a fresh turkey dinner. Or just go all in with Barefoot Bubbly Brut Cuvée (this is a celebration, after all) and pair it with virtually anything!

It's also fun to have one or two cocktails on the menu to share with your guests! If the weather is feeling especially autumnal, whip up a batch of these Sweater Weather Sippers featuring our Cabernet Sauvignon. They're the drink equivalent of cozying up on the couch in front of the fireplace. For the dessert aficionados, offer an Apple Pie Infusion made with Barefoot Moscato. Yum!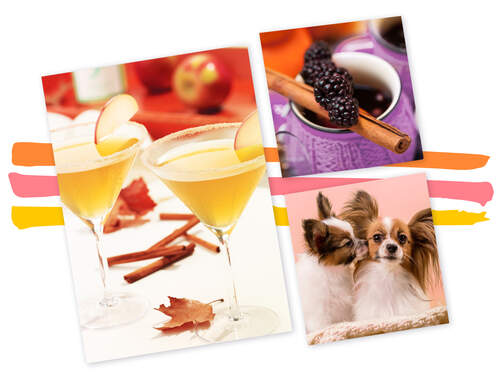 What should we talk about?

While your Friendsgiving squad no doubt already has plenty to catch up on, it can be fun to shake up the chitchat with some unique 'prompts'! We've put together questions for you to print and scatter on your table for fun conversations that'll last the entire holiday! From supernatural insights like, "Do you believe in ghosts," to personal revelations such as, "What's the nicest compliment you've ever received," there will be no strangers left at the table!

We can't wait to see how your Friendsgiving comes to life this season! For more cocktail recipes and to shop all Barefoot wines, visit us at www.barefootwine.com. Cheers!